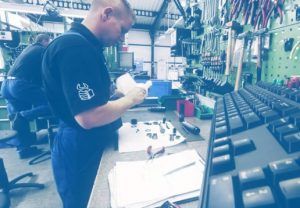 Welcome to our repair and service page. Total Air Tool Services are experts in air tool and industrial electric repair and servicing. We pride ourselves on our quick and high quality repair service ensuring optimum reliability. All of our engineers are fully qualified with years of experience and can offer you professional advice and expertise.
We offer a wide range of air tool and industrial electric tool repair and servicing solutions to suit your specific requirements. We service tools either on a contract or a one off basis .
Highly Skilled Engineers with Years of Experience
Our highly trained engineers are able to repair and service all makes and models of tools including Pneumatic and electric assembly tools in our fully facilitated premises. We also provide continuous in house training to ensure our repair and service department are up to date the latest technology.
In a Rush?
Here at Total Air Tool Services we can also offer a 24 hour turnaround time for most tool repairs in urgent situations. We know that downtime of any air tool can cost a lot of time and money and is a big inconvenience. If a tool repair is of great need, we will always do our best to make sure that it is done as quickly and effectively as possible.
Why Choose Total Air Tools?
1. We offer full demonstrations on air tools at our workshop or yours.
2. All torque verification and calibration is carried out using equipment traceable to a UKAS standard
3. All repair and service quotes are completely free of charge
4. Our highly trained staff are friendly and approachable and can help repair all makes and models of air tool.
5. We only use genuine parts where possible straight from the manufacturer
6. We also offer a completely free collection service in the local area for any repairs and servicing
7. Our experienced team can offer you full technical guidance and advice on all air tools along with repair and service suggestions
8. We can also offer an on-site audit to help you get the best out of your tools to ensure optimum performance, practicality, time and money.
9. We offer 3 months parts and labour warranty on all our tool repairs
10. All of our tool servicing and repairs are carried out using our ISO 9001 approved quality management standard
We are proud to be an approved serviced centre for the following brands:
• Atlas Copco Tools
• Fiam Air Tools
• Delta Regis Electric Tools
We are also highly trained to repair and service the following brands of tools:
• Bosch Production Tools
• CP Desoutter Industrial Tools
• Pop Rivet Tools
• Trelawny Pneumatic Tools
• Nitto Kohki Tools
• Universal Air Tools
• Ingersoll Rand Tools
• Gesipa Rivet Tools
If you have any questions, or would like to know more about our repair and service centre.
Please contact us using our contact us page. Or alternatively email us at [email protected].