Semi-automatic tightening systems
The right solutions to improve the productivity
When bench or line assembly requires the use of very small screws or nuts, time is essential to increase production. These systems for fastening with semiautomatic feed reduce the cycle-time and thus improve productivity. They offer an easy and continuous supply of screws and/or nuts and lighten the burden on the operator who no longer needs to pick up the screw or nut and place it on the screwdriver bit or on the piece.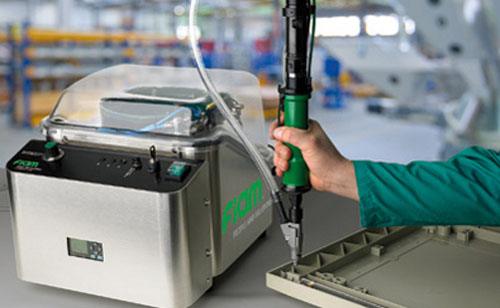 Automatic screw feeding system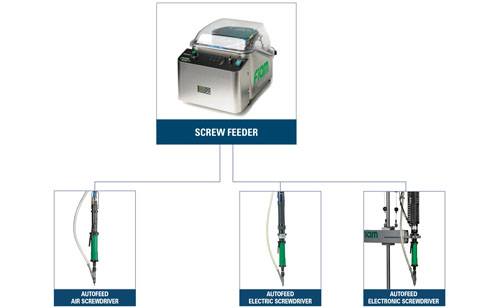 A concentrate of innovation
This solution consists of: Easydriver screw feeding system, autofeed air, electric or electronic screwdriver with patented FORWARD BIT STROKE or TELESCOPIC device . The patented FORWARD BIT STROKE , available for all autofeed screwdrivers, allows to tighten where space is limited, such as close to sidewalls or on inner holes with small diameter or very deep. It doesn't damage the components because it works without touching the surfaces of the component avoiding frictions. The TELESCOPIC device , available only for air autofeed screwdrivers, allows to reach the required depths and therefore to tighten on inner holes with an internal telescopic stroke of 75 mm that can be arrived up to 105 mm. Also available in the version with two sensors which, in addition to ensuring reliable tightenings and continuous work cycles without jamming, controls the final screw height. All autofeed screwdrivers use screw heads that allow to tighten on any type of encumbrance thanks to the high customization. The heads rotate at 360 ° on 6 positions depending on encumbrances on the tightening point. All solutions can be used with specific units for monitoring and controlling the tightening cycle.
Semi-automatic feeder for nuts
Efficacy 'pick and place' system to reduce cycle times and improve productivity
For an easy and continuous supply of 5,5 – 13 mm hexagonal nuts. It consists of: vibrating loader unit, suction station, electronic unit for controlling and adjusting the nut feed speed. The sensor inside the suction station, activated by the socket on the screwdriver, drives a pneumatic cylinder that pushes the nut upwards to insert it in the retaining spring of the socket itself. To use straight screwdrivers with lever start ot nutrunner motors fixtured on cartesian arms or fastening slides.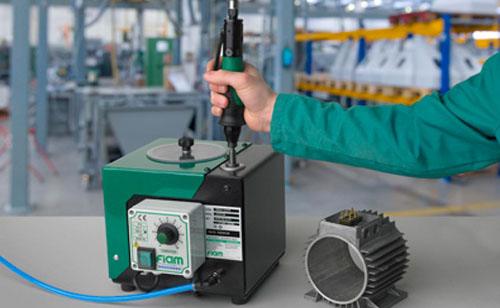 Semi-automatic feeder for screws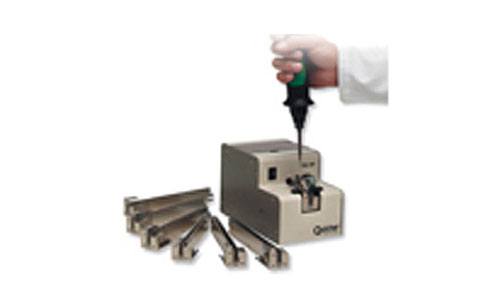 To ease operator screw picking and positioning in presence of small screws
For magnetizable screws from 2 – 5 mm shank diameter (max shank length 18 mm) and PHILLIPS (or POZIDRIVE) head. It is versatile because the same unit can be used with different screws simply replacing the rails. it guarantees of productivity increase up to 35%, high of screw feeder capacity, easy and quick installation/replacement of the rails, feeding up to 2 screws per second.
Air screwdrivers with semi-automatic screw loading
Screw loading and tightening in any direction
Manual air screwdriver equipped with funnel where the screw is loaded and held firmly by the jaws to be easily driven in any direction without being held by the operator. For screws of different diameters and lengths and a wide range of applications.