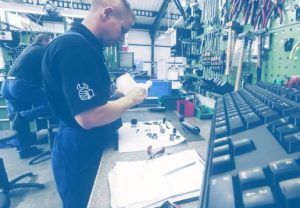 Welcome to our repair and service page. Total Air Tool Services are experts in air tool and industrial electric repair and servicing. We pride ourselves on our quick and high quality repair service ensuring optimum reliability. All of our engineers are fully qualified with years of experience and can offer you professional advice and expertise.
We offer a wide range of air tool and industrial electric tool repair and servicing solutions to suit your specific requirements. We service tools either on a contract or a one off basis .
Highly Skilled Engineers with Years of Experience
With years of experience, our engineers are able to quickly diagnose problems and provide a durable solution that lasts. Our service is comprehensive and conducted by trained engineers who have an in-depth knowledge of pneumatic tools and industrial electric tools. Whether it is air compressors, impact wrenches or electric screwdrivers, we have the capability to repair and service them flawlessly.
The benefits of using our skilled engineers:
Comprehensive, durable repairs and servicing

Quick service with no-hassles

Reliable results

24-hour availability
In a Rush?
Our company procedures are designed to provide a professional, quick service. Whether you're facing downtime or having to deal with a breakdown, we are quick to respond and resolve the problem as fast as we can. With years of experience in the repair and service of a wide variety of air tools, we are able to give an accurate diagnosis of the problem as well as an immediate solution.
Why Choose Total Air Tools?
There are cheaper repair and servicing options available in the market. Even though they may seem attractive at first, incorrectly repaired or serviced tools end up costing more in the long run. At Total Air Tools, you receive quality servicing from top engineers, conducted expertly. Our affordable services have a fair price, offering more value to you no matter what your repair or service needs are.
With Total Air Tools, you receive these benefits:
1. We offer full demonstrations on air tools at our workshop or yours.

2. All torque verification and calibration is carried out using equipment traceable to a UKAS standard

3. All repair and service quotes are completely free of charge

4. Our highly trained staff are friendly and approachable and can help repair all makes and models of air tool.

5. We only use genuine parts where possible straight from the manufacturer

6. We also offer a completely free collection service in the local area for any repairs and servicing

7. Our experienced team can offer you full technical guidance and advice on all air tools along with repair and service suggestions

8. We can also offer an on-site audit to help you get the best out of your tools to ensure optimum performance, practicality, time and money.

9. We offer 3 months parts and labour warranty on all our tool repairs

10. All of our tool servicing and repairs are carried out using our ISO 9001 approved quality management standard
We are proud to be an approved serviced centre for the following brands:
Atlas Copco Tools

Fiam Air Tools

Delta Regis Electric Tools
Need To Repair An Air Tool?
We define a good repair as durable and quick, conducted to an expert level. This belief of ours is seen in every service we provide. Our qualified engineers are highly skilled in repairing a wide variety of air tools and industrial electric tools of every make and model. We offer in-house and on-site repairs. Our in-house repairs are comprehensive and include repair of a wide range of tools such as impact wrenches, air drills, pneumatic air riveters, electric screwdrivers and much more. Since Total Air Tools specialises in the supply, repair and servicing of air tools; we have reliable procedures in place to complete a quick, durable repair that stands the test of time.
Quality Servicing of Tools
For over 30 years in this industry, we have been committed to providing a quality service to all of our customers. Our different servicing packages are designed to keep your air tools working to their best ability with the minimal amount of down time possible. Regular servicing ensures an air tool works at its optimal level and uses as little energy as possible energy thereby enhancing production quality and reducing energy bills. Quality servicing also helps increase the life of an air tool. We provide servicing of air tools and industrial electric tools of all makes and models. Depending upon the type, usage and the age of the tool, we create the most effective servicing cycle to keep your business equipment working smoothly and optimally at all times.
We are highly trained to repair and service the following brands of tools:
Bosch Production Tools

CP Desoutter Industrial Tools

Pop Rivet Tools

Trelawny Pneumatic Tools

Nitto Kohki Tools

Universal Air Tools

Ingersoll Rand Tools

Gesipa Rivet Tools
Quick, Effortless Repair and Servicing
We understand the value of your investment and make every effort to keep your air tools performing at their best. With our reliable services you experience peace of mind, as we take complete responsibility of maintaining your tools. For decades we have continued to offer the highest quality repairs in the UK, gaining the trust of our customers. With Total Air Tools taking care of your tools, you spend more time running your business operations than maintaining its machinery.
From exceptional service from our support staff to a quick response from our qualified engineers, you receive quality at every step. Don't spend anxious hours waiting to get your tools repaired, choose Total Air Tools for a quick, quality solution.
Your Convenience is Our Priority
Our work revolves around your convenience. All of our processes are created to suit your needs and requirements. Total Air Tools provides you with best care. With Total Air Tools you can receive a quick response to your query. Which is followed by a complete inspection of the tool completed prior to repair. After your confirmation, we begin the repair work immediately as well as a thorough test and inspection completed to rule out irregularities.
Preventive Maintenance of Tools
Regular servicing of a tool is vital for its continuous smooth operation. Depending on the type of tool, the usage and its age determines the frequency of its service. It is because of this that we offer a variety of packages to suit the precise maintenance needs of all air tools. By conducting a thorough inspection of the tool during servicing, we are able to detect any problems before they can cause damage or poor performance.
Preventive maintenance of tools results in:
Enhanced productivity

Smooth functioning of the tool

Reduced energy costs

Lower repair costs

Longer tool life
Tools We Repair and Service
At Total Air Tools, we offer a professional repair and service for a wide range of pneumatic tools and industrial electric tools. We are a premier distributor of Atlas Copco air tools, and the sole UK distributor for Fiam air tools, Delta Regis electric assembly tools and Tecna suspension system. Our highly qualified engineers are experts in conducting quality repairs and servicing on pneumatic wrenches, sanders, power drills, impact wrenches and many more types of industrial tools.
With Total Air Tools, you experience a quality service performed by experts. Get freedom from the bother of maintaining your air tools, choose Total Air Tools for a superior and durable repair that offers value.
If you have any questions, or would like to know more about our repair and service centre. Please contact us using our
contact us
page. Or alternatively email us at [email protected].