Intuitive and easy to use.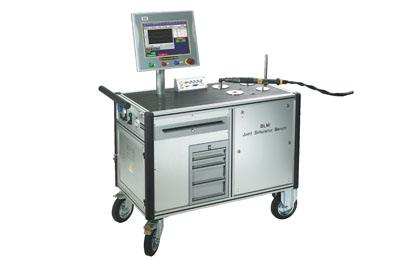 BLM Joint Simulator Bench AD
The BLM Joint Simulator Bench AD provides maximum tool evaluation flexibility. DC electric, clutch, impulse and battery tools as well as torque wrenches can be evaluated. The hydraulic brakes simulate the behaviour of a real joint, reproducing the stiffness from hard to soft. This allows the tool to be tested in accordance with VDI/VDE 2647. Machine capability (Cm, Cmk) can be tested quickly and easily under real shop floor conditions without the need to run tests on the product on the line that would interfere with production.
• Large LCD touch screen, intuitive and easy to use.
• Efficient hydraulic pump fills the pressure accumulator in just 15 seconds reducing battery drain.
• Connector panel manages all operator connections such as external in-line torque transducers, printers, Ethernet, USB and serial.
Friction Coefficient analysis
The BLM μ Tester is a complete set for measuring the friction coefficient. In addition to being used in the tool crib, it can be used along the line for a fast and easy fastener evaluation.
The μ Tester 25 and 200 can be supplied with additional transducers. It is not possible to have TPT 2000 on a bench due to high torque. If a TPT 2000 is requested, then this transducer must be mounted separately on a fixed table. The adapter kit provides all needed accessories to test bolts of different diameters, pitches and lengths. Bolts can be tested with the original nut used in production, or with the supplied hardened threaded adapter. Spacers allow testing bolts of different lengths. For each size of bolt, there are three adapter plates available: one flat, one to be used with washers and one designed for customer made plates. Adapter kits 25 and 200 are supplied in a wooden case. For the BLM μ Tester, the adapters are stored in the drawers. The kit for TPT 2000 is supplied in a heavy duty trolley due to the weight and size of the parts.
Static Transducer Bench – STB AD
The Atlas Copco Static Transducer Bench is a mobile bench as it is equipped by a battery pack that makes possible to operate for up to 16 hours without to be connected to the power supply plug.
On the top plate of the bench there are several static torque transducers. The static torque transducers are the new SRTT-B. The New SRTT-B is equipped by the new patented system to hold the mechanical Test Joint. The mechanical Test Joint is to test direct driven tool or shut off pulse tools. The SRTT-B has a special bearing on the shaft to absorb and eliminate the axial force during the test, this is to have the best possible accuracy during the test. By using a special included adapter on the SRTT-B it is possible to test the click wrenches, wrenches and non shut off pulse tools.
Joint Simulator Bench 3840
JSB 3840 is an ergonomic solution, which provides in a single mobile unit, all necessary equipment needed for measuring, such us all transducers, adapters, cables, reaction bar, battery and an industrial PC. The alternative is to carry and connect/disconnect constantly all these equipment together, so the JSB 3840 represents a cost effective & ergonomic solution. JSB 3840 includes:
• A 12″ touch screen color display, and heavy duty industrial PC.
• Port: RS232 for printing certificates, USB for RBU automatic back-up function and Ethernet for server option.
• Slim frame of 40 cm wide, to easily move across narrow production lines.
• 16 hours of battery life & embedded battery charger, to be used in 2 shift
• 1 set of accessories adapter, located in a lock drawer, to allow the tool connection.
• 1 reaction bar & adapted accessories, to ensure a safety measurement for the operator.
• Torque Supervisor software, with up to 2000 tools Database, Easy SPC analysis, Cm/Cmk graphs and certificates plus excel export.