DC electric tools like nutrunners and impact wrenches keep manufacturing lines running smoothly. But without regular maintenance, even rugged power tools fail eventually. Costly downtime and lost output follow. As DC tool service specialists for over 10 years, Total Airtool Services technicians know how to keep your critical tools performing their best.
The Importance of DC Tool Service
Advanced DC tools represent major investments, with costs of £1,000-plus per tool common. To protect your investment and avoid surprise breakdowns, comprehensive preventive maintenance is a must. Our expert technicians advise following manufacturer guidelines for routine service intervals. These are typically based on cumulative runtime hours.
For most DC nutrunners, screwdrivers, and impact wrenches, manufacturers recommend major overhaul every 1,000 – 1,500 operating hours. This involves fully dismantling the tool. Our technicians inspect and replace worn parts. We lubricate moving components. And we test performance before returning tools to service. Key maintenance tasks include:
Gearbox service – The gearbox has many moving parts like bearings and gears. Without proper care, gearbox issues are a top cause of DC tool failure.
Brush replacement – Motor brushes gradually wear down over time. New brushes maintain optimal torque and power output.
Anvil and hammer service – For impact wrenches, the hammer and anvil strike at high speeds. Proper inspection and replacement prevents cracks and damage.
Seal and gasket replacement – Worn seals and gaskets allow contaminants inside, increasing wear and electrical faults. Our technicians use OEM replacement parts for superior fit and performance.
Testing and calibration – Post-service, our technicians thoroughly test tools. We verify power, torque, and speed meet OEM specs before returning tools to operation.
For maximum up-time, enroll tools in our preventive maintenance program. Our RCM (Reliability Centered Maintenance) plans minimize failure risk. We replace worn parts before failure occurs. With RCM, your critical tools stay in peak condition. Unexpected downtime and repair costs also decline.
The Key Role of DC Tool Calibration
Routine service keeps DC tools running. Calibration ensures tools consistently tighten fasteners to the correct torque or tension. For assembly work where quality matters, properly calibrated tools are essential. Even minor torque inconsistencies can lead to under or overtightening. The result is product failures, safety issues, or standards non-compliance.
Our UKAS ISO-17025 accredited lab uses precision torque transducers. These are traceable to national standards. We verify the performance of your DC electric tools. Our trained technicians can calibrate to manufacturer specs or your custom torque needs. We test and calibrate key parameters like:
Peak torque – The max torque output before the clutching mechanism engages. Prevents overtightening.
First peak torque – For pulse tools, the initial impact torque before declining to run-down torque. Critical for proper preload tension.
Rundown torque – The final stabilized torque during operation. Averts under-tightening and joint failure.
Torque accuracy – How the actual torque matches the indicated tool torque setting. Keeps torque output precise and repeatable.
Torque repeatability – Variability when hitting the same indicated torque repeatedly. Confirms consistent tightening.
For tools failing OEM specs or your custom tolerances, our technicians make adjustments and recalibrate as needed. We supply complete calibration reports with every tool. The test data verifies your DC tools operate at peak accuracy.
Beyond lab work, our mobile teams can also calibrate on-site. This saves time removing tools from production. We check each tool against a calibrated master. Technicians make any adjustments on-site and attach a calibration label. Your operation continues without interruption.
In our lab or on-site, our UKAS ISO-17025 accredited calibration follows the most stringent quality standards. This ensures precision, reliability and traceability.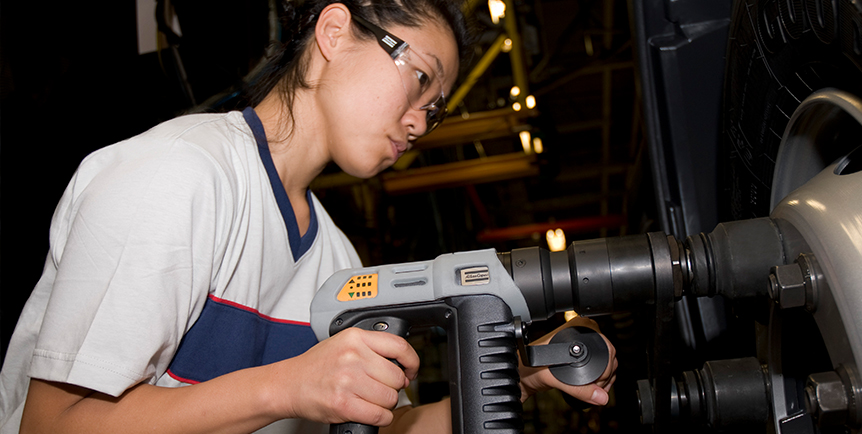 Trusted Calibration for Leading Tool Brands
At Total Airtool Services, our experienced technicians are fully trained to perform expert calibration on DC electric tools from the industry's top manufacturers:
Atlas Copco – We are an Authorized Service Center for Atlas Copco power tools. Our technicians are trained to properly calibrate the latest Atlas Copco DC nutrunners, screwdrivers, and impact wrenches to OEM specs.
Ingersoll Rand – We have extensive experience servicing and calibrating Ingersoll Rand's rugged assembly tools to keep them performing at factory accuracy.
Desoutter – As an authorized dealer, we can calibrate Desoutter's ergonomic electric screwdrivers and nutrunners to precise original tolerances.
Cleco – Our long-standing relationship with Cleco enables us to properly calibrate their innovative pulse tools and controllers to maintain peak accuracy.
Fiam – We are a trusted service partner for Fiam, providing expert calibration on their air-powered torque wrenches in our UKAS accredited lab.
Delta Regis – From high-speed nutrunners to clever clutching screwdrivers, we calibrate Delta Regis DC tools to stringent standards.
Trust the DC Tool Experts
With over 10 years' experience servicing and calibrating Atlas Copco, Ingersoll Rand, Desoutter, Cleco and other leading brands, Total Airtool Services technicians have the expertise to optimize your DC tool performance, accuracy and uptime. We are authorized repair centers for many top OEMs. Our factory-trained technicians are qualified on even the most complex DC tool models.
Our comprehensive services include:
Preventive maintenance plans – Proactive service to minimize downtime and costs
Major overhauls – Complete rebuilds to restore like-new performance
Brush changes – Quick turnaround on brush replacements to optimize power and speed
UKAS accredited calibration – Precise torque verification traceable to national standards
Onsite support – Mobile service and calibration avoid production interruptions
Fast turnaround – Typical 48-72 hour service completion for minimal downtime
Performance testing – Stringent quality control before returning tools to service
Warranty support – Expert repairs for brands we represent
To learn more about keeping your DC tools performing at their best through expert service and calibration, contact us online or call 01926 857193. We serve companies across the UK from our conveniently located workshops.